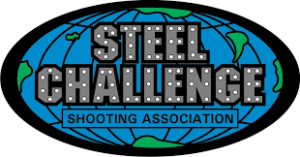 Steel Challenge matches will take place the first Tuesday of the month in April, May, August, September and October. Match dates include April 4, May 2, August 1, September 5, and October 3.  The October match is weather dependent. The other matches will take place rain or shine.
Set up will occur the day before the match beginning at noon.  Gate will be open at 09:30 the day of the match.  NOTE:  August and September events will have an earlier start time due to heat.  Gate will open at 0730, registration begins at 0800, shooter's meeting at 0845.
First round down range will occur after we've set-up and held a safety meeting at 10AM.
Pre-registration and payment is available through PractiScore or register the morning of the match. Cost is $15 per shooter per gun with a maximum of two guns. Youth under the age of 18 shoot free. All scores will be submitted to SCSA for classification purposes.  Online registration will open two weeks prior to each event and will close at 4PM the day prior.  Register at:
April Tuesday Steel Challenge Registration
May Tuesday Steel Challenge Registration
August Tuesday Steel Challenge Registration
September Tuesday Steel Challenge Registration
October Tuesday Steel Challenge Registration
Depending on the weather we will shoot between 4 to 6 stages. Round count is 150+.
For equipment, the competitor will need a serviceable revolver/pistol, holster, at least 2 magazines, magazine pouch, belt, eye and ear protection.
Rimfire weapons must be bagged until at the shooting line. Rimfire weapons will begin from low ready position. Holster not required.
Rules and division information can be found at Steel Challenge.  Divisions recognized at these events:
Open (OPN)
Limited (LTD)
Production (PROD)
Single Stack (SS)
Carry Optics (CO)
Iron Sight Revolver (ISR)
Optic Sight Revolver (OSR)
Rimfire Iron (RFPI)
Rimfire Optics (RFPO)
Rimfire Rifle Iron (RFRI)
Rimfire Rifle Open (RFRO)
Pistol Caliber Carbine Iron (PCCI)
Pistol Caliber Carbine Optics (PCCO)
For more information contact:
Dan Prentice
bigdanp@bresnan.net
Dennis Grisamore
scratchfab@gmail.com